Click on any word to hear "welcome" in that language. (Requires RealPlayer®).

What's New?
| | |
| --- | --- |
| | 2005 The Year of Languages- web site sponsored by the American Council on the Teaching of Foreign Languages (ACTFL) to celebrate The Year of LanguagesAP French Literature E-Text Pilot Project and Modern Languages Wireless Computer Cart student using technology in the classroom |
| | Un moment d'humour: A video "tribute" by my French III students from May 1998 (Requires RealPlayer®). |
| | Updated! Read the latest results with the complete data for student and faculty technology surveys from 1996 to date as well as a a comparison of student grades for WWW influence. |
| | 2002 Fulbright-Hays Summer Seminar Abroad in Thailand and Vietnam- complete photo galleries |
| | Visit www.terezw.com. |
| | Accessing this site just got easier! Simply go to www.maturner.com! |
| | Click here for student projects, student TV news broadcasts, student talk shows, French III Oral Finals, Spanish I Oral Finals, student video contest winners, and French history presentations. The history presentations are also available in HTML. Also view RealVideo® welcome messages in English, French, Spanish, and Arabic. |
| | National AP Scores for the French, Spanish, and German Language and Literature exams 1995-2000. |
| | View a collection of web sites I have created and earlier versions of this site at the web development page. |
| | Visit the Modern Languages home page at www.ignatius.edu/modlang/! It includes an introduction to numbers in Arabic and information on the world's most widely spoken languages. |
| | Click here to see a listing of various articles containing my thoughts on a variety of issues. |
| | Photo gallery of Canada, France, Martinique, Monaco, Morocco, Puerto Rico, Switzerland, Thailand, Tunisia, Venezuela, and Vietnam. |

Images of the World




Statue of St. Denis on the façade of Notre Dame Cathedral in Paris; The Café de Paris in Monte Carlo, Monaco; Glass Pyramid entrance to the Louvre Museum in Paris, France.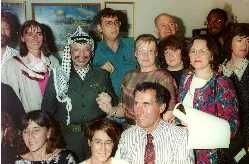 1993 Fulbright-Hays Summer Seminar participants with PLO President Yassir Arafat in Tunis, Tunisia
Information on professional web development available at the MATWebs site.
Visitors to this page since November 23, 1996